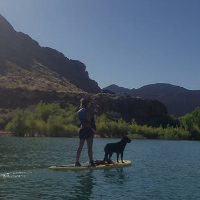 Todo List
North Wash
Morocco Canyon - North Wash
Tick List
Rock Canyon - Zion South Side
Date:
08/18/2017
This canyon can be as fun or not fun as you want it to be. The long drive is rough, but that is the only downside I can see. We did not see another soul the entire time we were out there. We also ended up exiting down the Barracks and out French Canyon. I highly recommend this. French Canyon was stunning. Because Rock Canyon is so short, I think it would be fun to pack inflatable tubes and float the Barracks when the river is a little higher.
Jolley Gulch - Zion East Side
Date:
11/06/2016
Took a guy through this as his first canyon, and we all had a blast. For how little canyon you get, it really is quite scenic. The canyon was bone dry.