From the Archives.....
As had become my habit, most weekends found me heading somewhere away from the big city looking for adventure. Sometimes into the mountains, but usually into the desert. This left me a little pressed for time to date, but I'd met a gal about 3 weeks prior and we'd been getting along fairly well. She seemed relatively athletic, fit, and eager to embark on an adventure… Perfect.
I'd planned on finishing a project canyon with my usual canyon crew on this particular weekend, so I invited her along. We went back and forth about what to expect, how difficult it would be, what skills would be needed, etc...., etc... It was finally agreed that Rebecca would first do a canyon with me alone, in order to learn the necessary technical skills and be comfortable in the canyon environment before joining a bigger group. Alright then, this is going to be GREAT!
The Plan:
Rebecca and I would go through Lymric Canyon on Friday afternoon as a warm-up to teach Rebecca technical and downclimbing skills, as well as work out a comfortable system for her and I to work through canyons together. We would meet the rest of the group Friday night for some project canyons on Saturday and Sunday.
Lymric was chosen because of the several easy raps, and lots of basic/moderate downclimbs. From past experience I was planning on a 3 hour trip car-to-car, so it was easily do-able in a short early spring afternoon. I had descended Lymric for the first time a few weeks prior, so I was very familiar with it and felt comfortable taking a beginner through by myself. "It would be a walk in the park." I told myself. "A great way to introduce someone to canyoneering in a mellow environment."
The Beginning: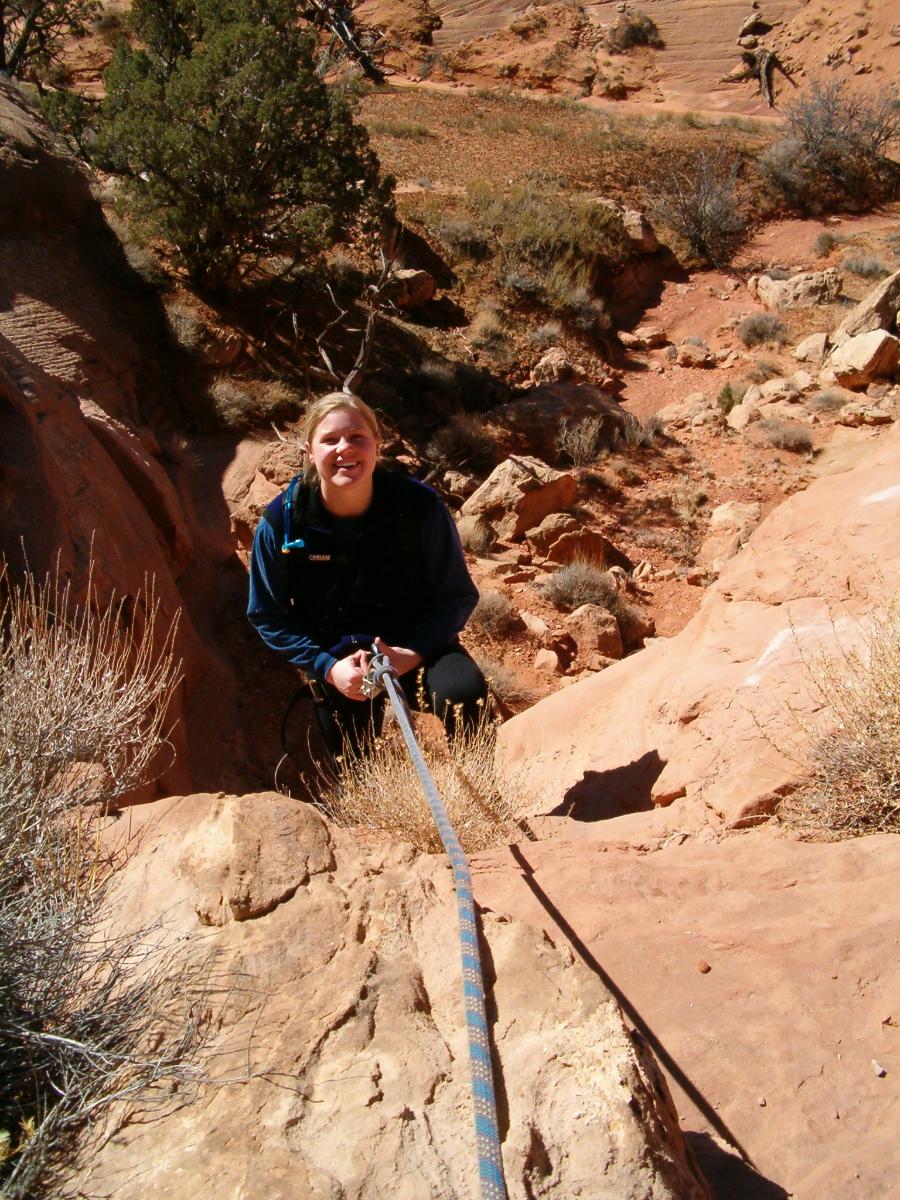 We reached the trailhead about 11:30 a.m. Friday afternoon in windy and cool weather. The temperature was probably in the 40's or low 50's. A typical March/April day in the desert. As I pulled on my fleece and stretched my ride stiffened muscles, I was happy to be in the desert and away from the big city.

After eating some peanut butter and honey sandwiches, we packed up and headed to the first rap. At the last minute, I decide to take yet another rope. This turns out to have been a good choice. I had in my pack a 50m, a 60m, and a 50-foot rope.

On the way to the first rap, I found a low angle slab to do a practice rappel on. Maybe class 4, and about 20 feet, it's a perfect teaching rappel. Rebecca hasn't rappelled much, so I brace myself behind a boulder so she could rap off me as a human anchor. Aside from the usual apprehension beginners have about rappelling from a human anchor, it goes flawlessly. I'm feeling confident, this will be great fun!

The first "real" rap is reached by 12:30 p.m., and I setup the rappel. Rebecca easily raps in, with me using a second rope to belay her on the rappel. I join her at the bottom of the first rappel. She then immediately does the second rap and checks over the edge of the third. She says there is water, but she cannot tell the depth. I rap down and peer over the 3rd drop. To this point, we have fixed ropes, and I have one pair of ascenders, so retreat is possible.
No Retreat/No Surrender:
At the bottom of the third rappel there is a pool of unknown depth that is maybe 15 feet long. I leave the 50m rope at the first rap, and it extends down to the second as well. I rap the third drop to check the water depth. It is knee deep, and cold! I jug back up to Rebecca to discuss options.
At this point, we have a couple of options:
Option #1 - Jug back up the fixed ropes and call it a day. The upside is that we will stay dry, the downside is that I will have to teach Rebecca to ascend a rope. This idea isn't particularly appealing to me, because I would prefer to have someone at the top and bottom while teaching her to ascend in case she gets stuck. With just me, one pair of ascenders, it seemed risky.

Option #2 - We could continue the down canyon, hoping there isn't any swimming. It's cold enough, and we are ill prepared for serious cold water conditions, hypothermia is a serious possibility if there is much water. The brief knee deep wading was enough to make me shudder. Swimming or deep wading would be miserable at best.
We decide on Option #2 and go for it. My reasoning is that the rest of the canyon seemed like it would not hold water, and was very short, so it shouldn't be a problem.... I rig the 60m off the chokestone halfway down rap 2. Rebecca raps down to a muddy ledge, and I follow. I carry her over the first pool piggyback, no sense in both of us getting wet and cold.... Seems like the chivalrous thing to do...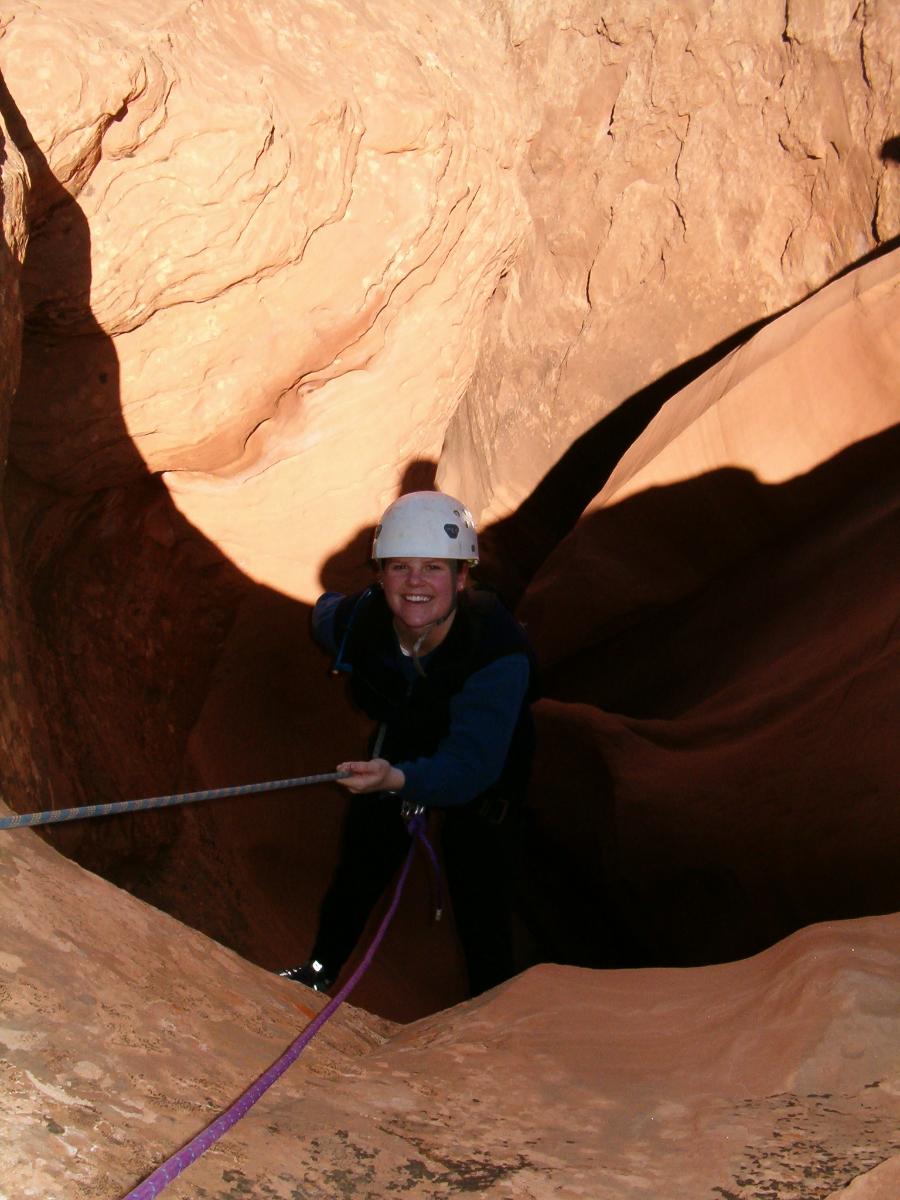 The Plot Thickens:
The fourth rappel is a short 15 feet off a drilled angle that also has a pool. I setup the rappel for Rebecca, and downclimb to the pool. It is about waist deep. Brrr. She raps to me, and I carry her over it. Right after that is the Extreme Duress Chimney downclimb, so called because on my first descent we joked about only being able to climb up it in Extreme Duress.
There is a pool at the bottom of the Extreme Duress Chimney as well, and I suspect it may be deep. As I lean over to check it out, my Oakley sunglasses fall out of my shirt pocket and sink like my dreams of this being an easy day... Hmmm, I chimney down and into the pool hoping it's shallow but discover it is chest deep. To top it off I can't find my sunglasses. This is bad! Rebecca chimneys down to me, and gets on my shoulders ala the game of chicken you play in the pool as kids. We teeter across the pool. All but her feet are dry. I realize that reversing the Extreme Duress Chimney is probably not going to be an option with a pool at the bottom. We are committed.
The Longest Section:
From here, the canyon is a bit of a blur. Lot's of pools, probably more than a dozen. Some knee deep, some waist plus deep. We stem when we can; I carry Rebecca when we can't. In one stem section, it flares, so I stem it, and Rebecca uses my feet to put her feet on for a traverse. It's an amazing system that worked! The things you will attempt to stay out of ice cold water. Talk about teamwork.
As we round the bend to what I believe is the last section, we come to a long pool. Probably 100+ feet long, and not stemmable. I downclimb into it. It gets deeper as I cross, until it is at my upper-chest. I go back for Rebecca and she downclimbs to my shoulders. Across we go, teetering frighteningly because she is wearing my backpack and every move throws us off balance. With the added weight, I sink deeply into the mud as we cross. The water is just below my chin before it finally begins to shallow. We make it across the pool and find a sunny spot. There is still 100 yards of canyon, but I need to stop.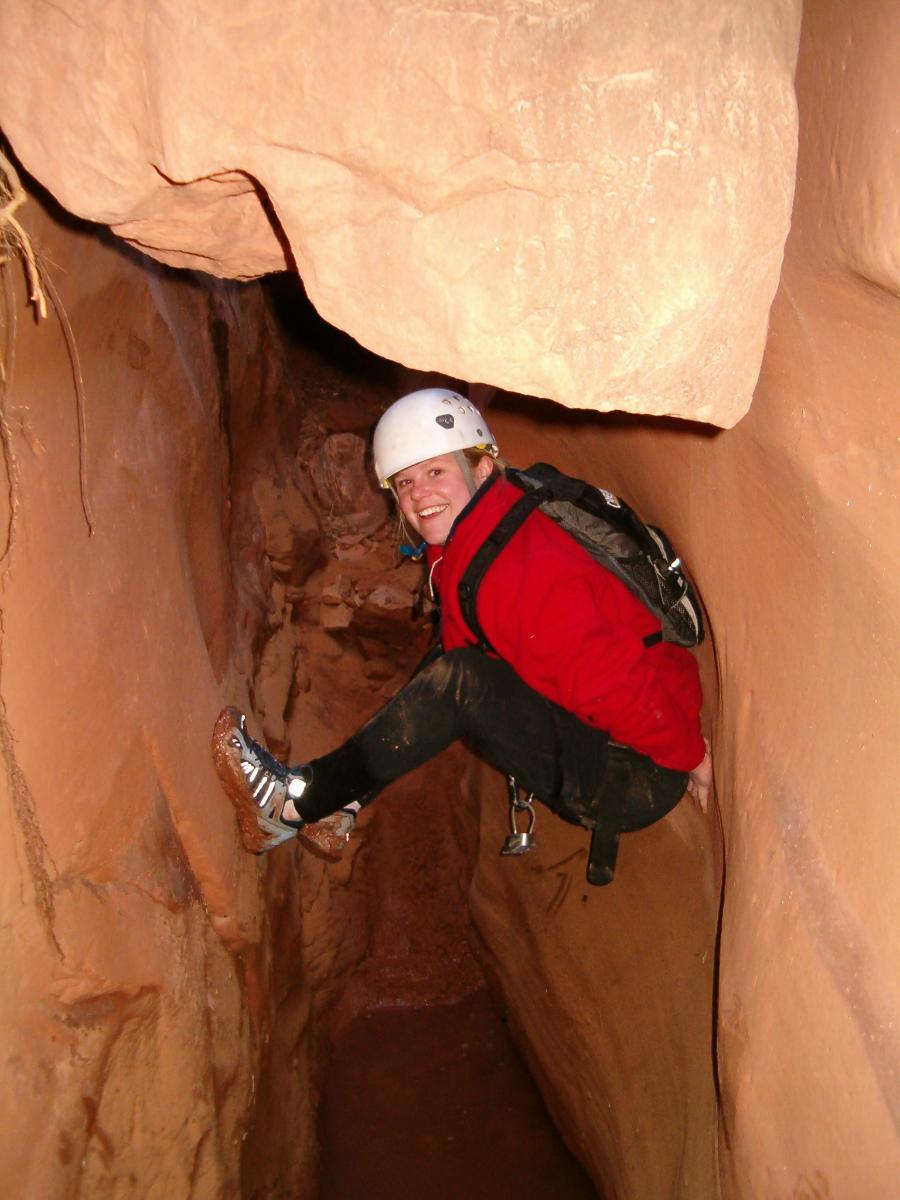 The Finale: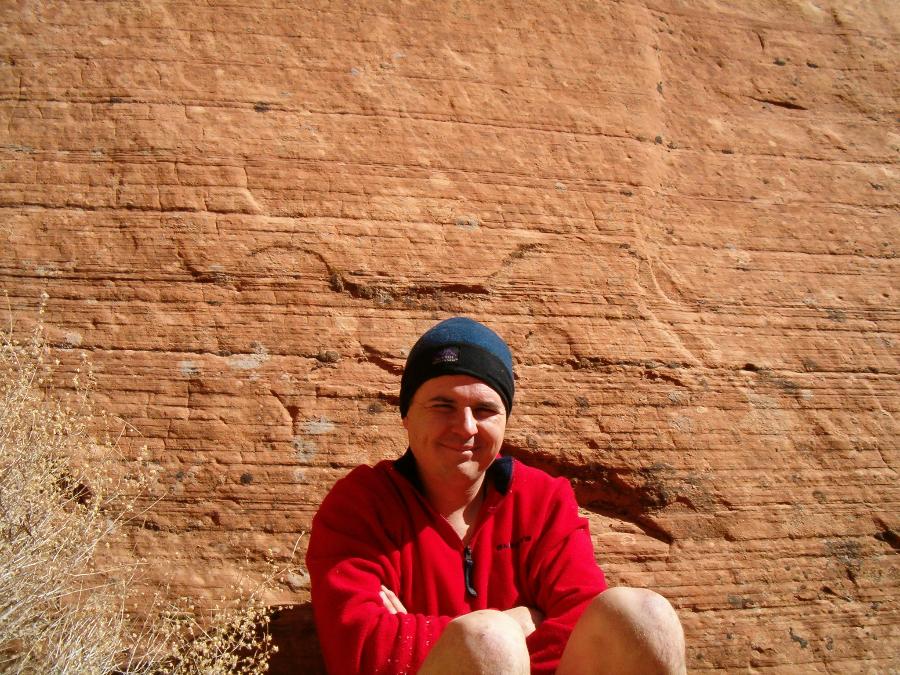 I strip down to boxers in the sun and ring out clothes. I take a dry fleece back from Rebecca that I had loaned her and I try and get warm. Although I was only shivering a little, I was rapidly losing motivation. Rebecca was still calm, relaxed, happy, and energetic. Of course she was also mostly dry.... After a short break, we finish the canyon with 2 more big pools that were waist deep.
We hit the sunny junction and tried to warm up. The 50-degree sunshine wasn't doing much to warm me, and after a few minutes we decided to just hike the exit to get warm. By the time we reached the canyon rim we were relatively warm and my spirits were up. At the head of the canyon, I rapped in, cleaned the 2 fixed ropes and jugged out. Total time for the rap/jug was less than 15 minutes. Nothing like the thought of hot food and warm dry clothing to keep me moving.
Back to the car, and warm dry clothes by 5:30 p.m. Dash to the nearest town for a hot meal, camping food is just not going to cut it tonight....
The Ending:
So, Lymric is not always the fun, short, romp I experienced the first time. For those that are curious, the relationship with Rebecca ended fairly soon after that brisk early spring canyon day in Lymric. Sure it was over different issues, but I have to wonder if an intense afternoon in a canyon played any role?