Roadside Attraction Nine Mile Canyon
Wellington
Overview
RATING:
Roadside and Easy Hikes
MAPS:
MINNIE MAUD CREEK EAST, UT; WOOD CANYON, UT; CURRANT CANYON, UT; COWBOY BENCH, UT; PINNACLE CANYON, UT
SEASON:
Spring, Summer, Fall
GEAR:
Standard Hiking Gear
Nine Mile Canyon is known as the world's longest art gallery. The canyon is about 40 miles long but became named Nine Mile Canyon when F. M. Bishop on Powell's expedition to the area did a nine-mile triangulation drawing he named Nine Mile Creek. For rock art enthusiasts, this is an absolute top of the list place to visit. The canyon is home to hundreds of rock art panels, as well as granaries, and other Native American sites. It is an astonishing place to visit.
History
Nine Mile Canyon shows evidence of Fremont occupancy from about 950-1250 AD. During their time in Nine Mile Canyon, Fremont set up villages, rock art, and sophisticated farming and irrigation along the creek in the canyon bottom. The more aggressive hunter and gatherer tribes Shoshoni, Paiute and Ute likely displaced the Fremont.
Utes are known to have inhabited the canyon from about 1600 onward. They added their own rock art, in their style. Some rock art, for instance, depicts horses which would show they were created more recently than Fremont.
The oldest confirmed white visitor is S. Groesbeck who carved his inscription in the canyon on August 19, 1867, though trappers and fur traders likely at least passed through the canyon before him.
In 1886 Nine Mile Canyon road was constructed through the canyon by Buffalo Soldiers. This was meant to connect Fort Duchesne to Price and allowed much easier access and settlement in the region. Farmers, ranchers, and other begin settlement of the canyon in earnest. With settlement came the small town of Harper in 1905 that boasted a population of 190 at its peak before declining to a ghost town in the 1920s.
Today the canyon is a mix of ranchers, visitors, and the oil and gas industry. Some conflict between visitors and ranchers over the years led the BLM to facilitate land swaps for several areas in the canyon. This has allowed greater access to visitors in exchange for other land for ranchers. The oil and gas industry has encroached in the canyon with several facilities now both in the canyon, and on the flat lands above the rim.
The sites described below are my favorites and ones that I think everyone should see and that I find particularly interesting. There are over 1000 petroglyphs in Nine Mile Canyon. Keep a sharp eye out as you drive, and you will see many more than described below. You may find a favorite I missed in my travels. I have visited the canyon a half dozen times and am always amazed by rock art I see that my eyes had not seen on earlier trips.
Notes:
Though many people visit for a day, if you enjoy rock art, it is a wonderful place to spend a couple of days.
The Nine Mile Ranch in the canyon bottom is the only lodging in the canyon. It offers cabins and a campground.
There is no camping allowed on public lands in Nine Mile Canyon. If camping, you will need to drive out of the canyon to camp.
Have plenty of gas, water, and supplies. There are no services in the canyon.
I highly recommend bringing binoculars.
Visiting in the winter (if there is not heavy snow on the ground), is a lovely time to visit.
Getting There
Nine Mile Cayon is reached from either Myton or Wellington. Starting from Wellington is the most common and what is described here. From Wellington, travel east on US-191 (Main Street). On the east end of Wellington, about 2 miles from the main town of Wellington is a Cheveron Station on the left.
There is an informational sign at the Cheveron for Nine Mile Canyon. The road to Nine Mile begins south of the Cheveron as Soldier Creek Road. Reset your odometer at the junction of US-191 and Soldier Creek Road, and head north on Soldier Creek Road. Nine Mile Canyon is well signed, with the first site being about 20 miles from the 191/Soldier Creek Junction.
Route
Rock Art and Historic Site Etiquette
Rock art and historic sites are fragile, non-renewable cultural resources that, once damaged, can never be replaced. To ensure they are protected, please:
Avoid Touching the Petroglyphs: Look and observe, BUT DO NOT TOUCH!
Stay on the Trails: Stay on the most used trails when visiting sites, and don't create new trails or trample vegetation.
Photography and Sketching is Allowed: Do not introduce any foreign substance to enhance the carved and pecked images for photographic or drawing purposes. Altering, defacing, or damaging the petroglyphs is against the law -- even if the damage is unintentional.
Pets: Keep pets on a leash and clean up after them.
Artifacts: If you happen to come across sherds (broken pottery) or lithics (flakes of stone tools), leave them where you see them. Once they are moved or removed, a piece of the past is forever lost.
Dry Canyon Side Trip
Dry Canyon is quite stunning. It is sheer walled and narrower than Nine Mile. Though there is only one panel in the canyon that I have seen, it is worthwhile to make the side trip. If not using the river crossing, the road is generally good and passable by 2wd vehicles most of the time.
Dry Canyon - 1.8 - Either using the oil well road, or the BLM creek crossing, reset your odometer at the oil facility. As the road heads up Dry Canyon, it passes The Mummy, a prominent spire near the road. It is 1.8 miles of generally good 2wd road to a small parking area on the right. A panel is visible from the parking area, as well as more along the cliff.
(

12S 570970mE 4401473mN

/

N39° 45' 37" W110° 10' 17"

)
Lower Nine Mile Canyon
Lower Nine Mile Canyon is mostly private land. It is signed No Trespassing, but the BLM has a public right of way to North Franks Canyon. You MUST stay on the road through the private property, but access is allowed if you stay on the road.
The lower canyon has two panels next to the road that are easily visible from the road. I enjoyed seeing Lower Nine Mile Canyon and North Franks Canyon but would rate most of the other sites described a bit more highly. I'd save this for last and do it if you happen to have time, but not put it at the top of your visit list.
Lower Nine Mile - 0.7 - Cattle Guard and No Trespassing sign.
(

12S 573749mE 4404323mN

/

N39° 47' 08" W110° 08' 19"

)
Lower Nine Mile - 2.7 - Gate and many No Trespassing signs. Public access is allowed as long as you stay on the main road. The gate should not be locked.
(

12S 576192mE 4404798mN

/

N39° 47' 23" W110° 06' 36"

)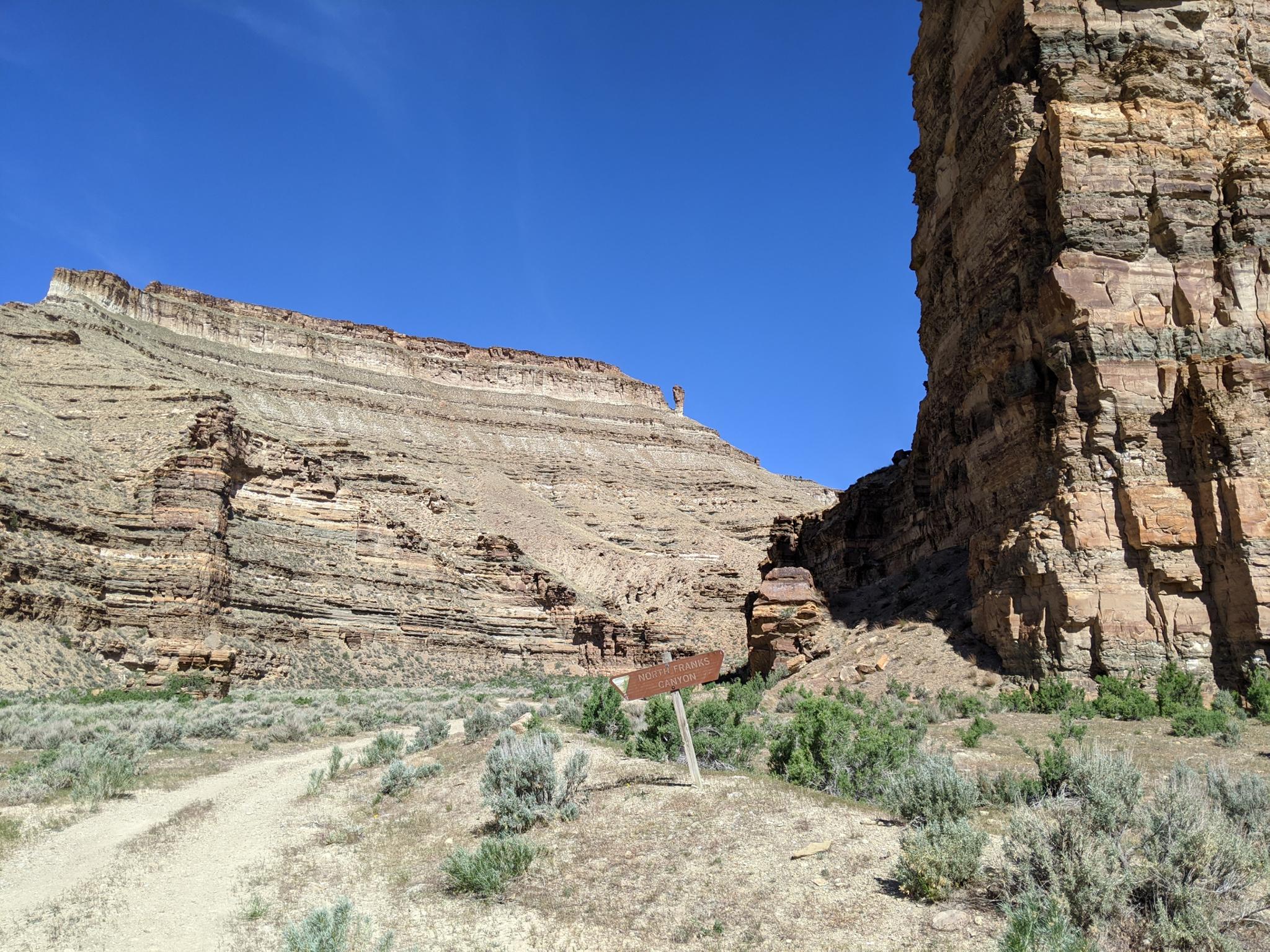 Lower Nine Mile - 5.2 - North Franks Canyon and gate. North Franks Canyon (left) is BLM land. The road continuing down Nine Mile Canyon is now private WITH NO PUBLIC ACCESS. North Franks is an interesting place to take a short side hike up the road among towering walls before returning. The road up North Franks is 4wd and continues all the way to the Sand Wash Road.
(

12S 578924mE 4406479mN

/

N39° 48' 17" W110° 04' 41"

)
Want to make a comment? Login and let yourself be heard.