Dog Friendly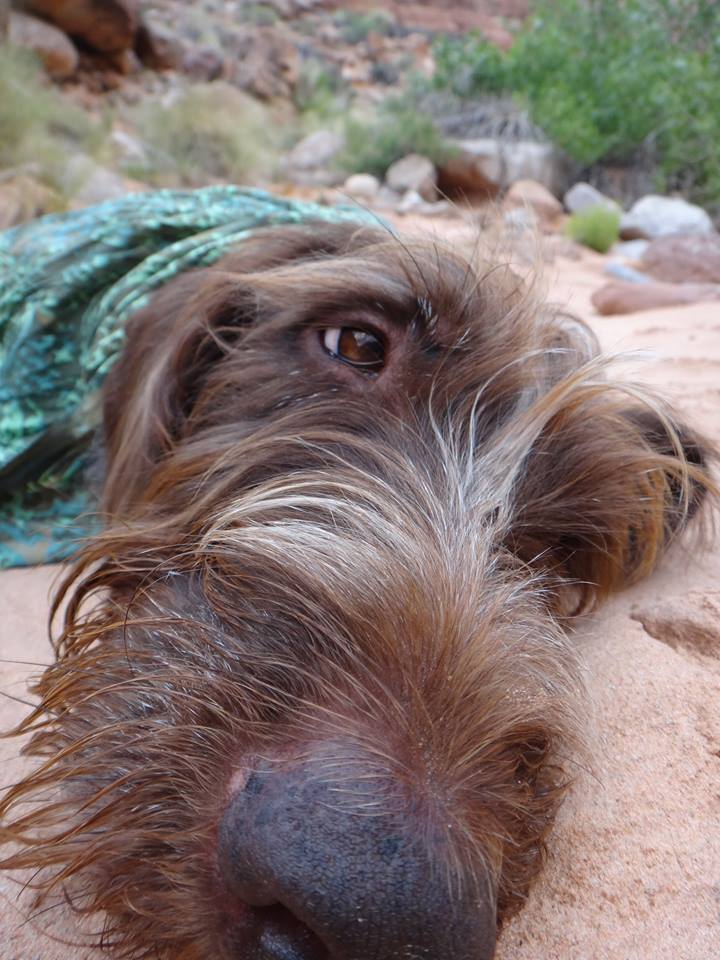 Wonder Dog!
Dog friendly trips are trips that dogs are allowed on, and generally may be fun for fido. Wonder Dog Lucy Lou has accompanied me on more desert trips that most any partner, and can out climb, scramble, and find a way better than more than a few of my human partners. That being said, be very careful when bringing a dog along on trips. A few guidelines I think are worth mentioning:
For desert adventures, bring plenty of water, and don't hike in the heat. Lucy comes along on fall, winter, or spring trips, but never when temps are going to be above about 80. It is just to hot. When she does come along, I generally bring 3 quarts of water for her, an additional 1-2 for me for a day hike.
Keep your dog under control. There are becoming more and more restrictions on dogs in the outdoors, mostly as a results of out of control dogs chasing wildlife, stealing other peoples food, and leaving feces where they shouldn't. Be a respectful pet owner and keep your dog under control or on a leash.
Be mindful of your dogs feet. Particularly in the desert, a dogs pads can blister and split in a short amount of time. Even when living in Hanksville, Lucy and I would typically hike for a few days, then take a couple of days off so her feet could heal and recover.
Keep dogs off ruins. Cedar Mesa is becoming more and more restricted with where dogs are allowed. When they are allowed, be sure to keep your dog out of ruins to avoid damaging ruins and help keep access for dogs in the future.