Canyoneering is a unique sport than can take you to some truly amazing places. It is also a sport with its own unique set of challenges. As an outdoor enthusiast, it's important to be competent in the skills needed for a canyon before heading out. Here are some guidelines to keep in mind:
Basics: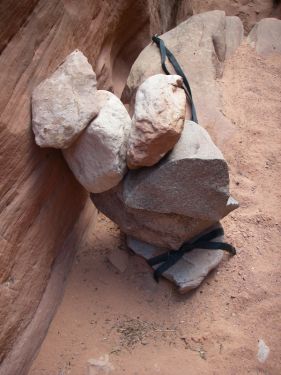 Cryotibiotic soil, the brown crust often seen in the desert, is extremely fragile. DO NOT WALK ON IT. Follow washes and slickrock whenever possible to avoid damaging cryptobiotic soil.
Canyons are fragile, especially as more and more people descend them. Minimize impacts by picking up any litter you may encounter, reduce webbing on anchors to 2 good pieces, and try to locate anchors in a location that minimizes rope grooves when pulling the rope.
Weather is a canyoneers worst enemy. Know the forecast, and don't go into a canyon if it's going to rain. Flash floods occur quickly, and have proven fatal many times.
Have solid rappelling and anchor skills. Canyoneering anchors are typically not as forgiving to poor rappeling technique as climbing anchors.
Know how to evaluate existing anchors and create new ones if necessary. Canyons, by their nature, change frequently. Anchors can easily be washed away in a flash flood.
If doing a canyon that requires pothole skills, get some practice with someone that already has the skills first. Potholes, with their technical challenge and cold water, can be fatal to the ill prepared.
Take a wetsuit if the description recommends it. Even in 100+ degree heat, the cold water in canyons can induce hypothermia in a very short time.
Many of the adventures detailed here do not have official trails. Be competent with a map and compass. A GPS is useful for double checking, but map and compass skills are essential.
Wear a helmet.
Don't jump! Pools look deceptively deep in canyons, but can be shallow and/or have jagged rocks on the bottom. Never jump into a pool without someone checking the depth first.
Choose adventures appropriate to the season. A casual romp in the summer can be a cold near-death-experience in the winter. Stick with the suggested seasons for an adventure, and you'll enjoy the adventure more.
Gear:
Everyone has an opinion on gear. A short list of my recommendations would be:
Rope: 9 mm Static. Although heavier than an 8 mm it will last longer and be easier to rappel on.
Wetsuit: Never buy a shortie! Full wetsuits are far more useful. For very cold and long canyons in Zion, go with 5mm or more. For the Swell, North Wash, or Roost in the spring through fall, a 3mm is a great choice. It will likely take a beating, so buy a cheap one. Drysuits can be used, but the cost and abuse they will receive make them a less practical and versatile choice than a wetsuit.
Rappelling Gear: The Black Diamond Alpine Bod is a great harness for canyoneering. Cheap-ish, easy to put on, and light, it is always a good choice. For a rappelling device, the Black Diamond ATC XP is the most used for good reason.
Backpacks: Get the cheapest one you can get your hands on. Thrift Stores and yard sales have become my preffered source for packs. They will take a beating and not last many seasons of hard use, so cheaper is better. 3000ci is a good size. If doing wet canyons, put grommets in the bottom to promote draining.
Shoes: Many invest in canyoneering specific footwear. I would recommend a cheap pair of hiking boots or old running shoes to start with. Specialized footwear is costly, and does not offer much benefit to beginner canyoneers in beginner canyons. I prefer climbing approach shoes to canyoneering shoes for their fit and climbing ability when doing more difficult canyons where specialized footwear can be an asset.
Webbing and Rap rings: 9/16" or 1" tubular webbing in earth tones is the way to go. For rap rings, use 7mm quicklinks or bigger. Aluminum rap rings do not hold up well, so avoid using them.
Standard Technical Gear: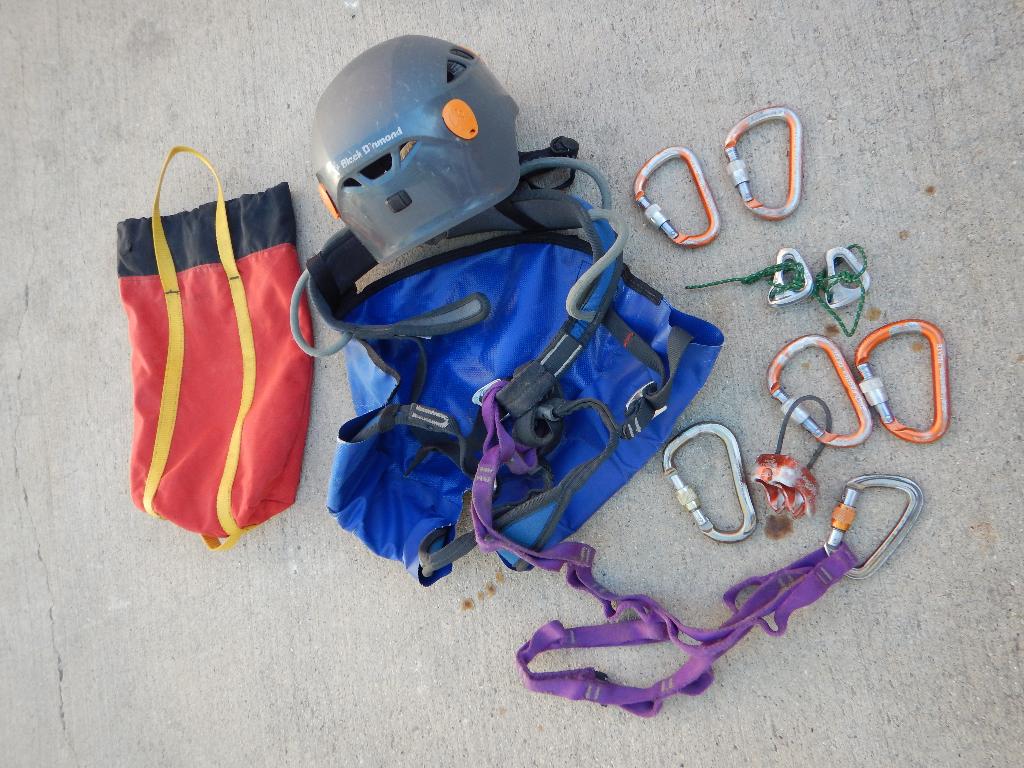 The Usual Harness Pile. A potshot holds the kit.
So what is in my pack as standard technical gear for canyoneering?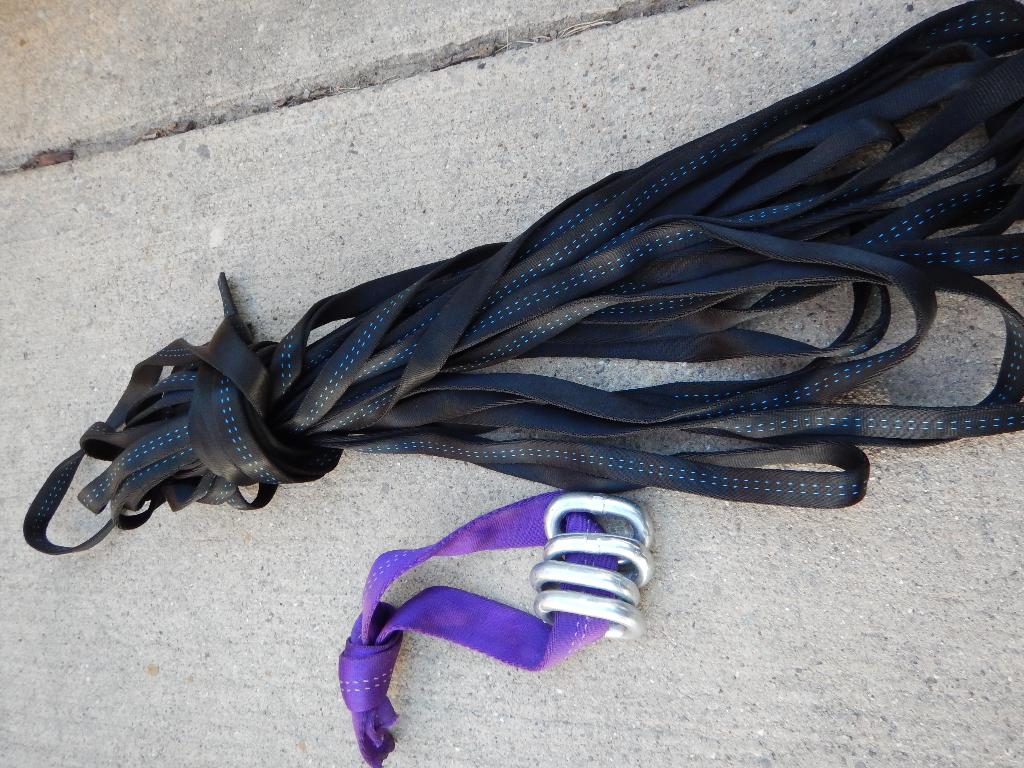 Rope (enough for the biggest rappel, and an extra rope for larger groups)
Webbing, generally 50-100' for rigging anchors
Rappel rings. (4+ depending on the number of rappels in the canyon and how often I think it is done)
Harness
Rappel Device
Ascending devices (I carry tiblocs, but prussics or other ascenders are popular) Be sure to be comfortable with whatever you bring and practice using it before hand.
Locking carabiners (5-6 or so, planning on 1 for blocking the rope, 1-2 for rappelling, one for dangling a pack, and an extra or two)
Daisy chain or other safety tether. This is for clipping into anchors and for ascending. If I need to ascend, I rig a second daisy and foot loop using the standard webbing.
Knife
Wetsuit if needed
Helmet
(optional) An extra rappel device per group in case one is dropped.
(optional) Gloves for rappelling. Some love them, I don't, and don't generally use gloves.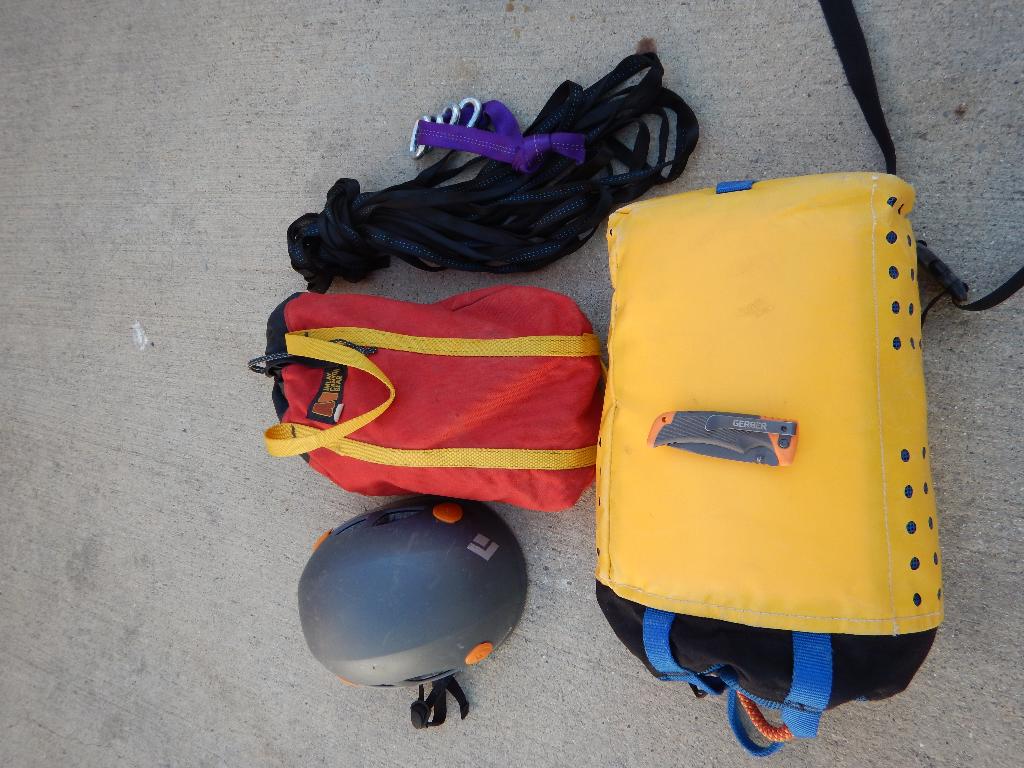 Protip:
I keep my harness and metal hardware in a potshot. This keeps the potentially poky edges away from drybags.
Training:
There are many great sources for canyoneering training available. The de facto standard is the American Canyoneering Association. Another highly regarded company that does canyoneering training is Zion Adventure Company.