Roadside Attraction Pony Express Trail
West Desert
Overview
RATING:
Roadside Attraction
MAPS:
CALLAO, UT; INDIAN FARM CREEK, UT; DAVIS KNOLLS, UT; DUGWAY RANGE NE, UT; FISH SPRINGS NE, UT; DUGWAY PASS, UT; CLIFTON, UT; COYOTE SPRINGS, UT; LOOKOUT PASS, UT; BOYD STATION, UT; DUGWAY RANGE SW, UT; DUGWAY RANGE NW, UT; FISH SPRINGS NW, UT; GOSHUTE CANYON, UT; IBAPAH, UT; INDIAN PEAKS, UT; FISH SPRINGS SW, UT; TABLE MOUNTAIN, UT; FAUST, UT; MUD LAKE RESERVOIR, UT; SIMPSON SPRINGS, UT; FISH SPRINGS SE, UT; ONAQUI MOUNTAINS SOUTH, UT
SEASON:
Fall, Winter, Spring (hot in summer)
GEAR:
Extra water, food, and supplies. It is a remote journey.
WATER:
None, bring all you need.
Utah's west desert is a vast and inhospitable place! The area has limited and poor quality water, scorching temperatures in the summer, freezing temperatures in the winter, and very limited resources. This is a place for hardy people that will put up with much hardship.
It also happens to be the chosen route for the Pony Express trail that was in use during 1860 and 1861. Today, the historic trail is a popular dirt road driven by those looking to experience history and the wild west the way it once was. Aside from improved dirt roads, the scenery has changed little along the road since the Pony Express days. The dirt road doesn't exactly follow the old route, but for the most part is pretty close.
A bit of Pony Express History:
"Men Wanted" The undersigned wishes to hire ten or a dozen men, familiar with the management of horses, as hostlers, or riders on the Overland Express Route via Salt Lake City. Wages $50 per month and found.
- Ad in Sacramento Union, March 19, 1860.
Starting in April 1860, and running until October 1861, the Pony Express changed history and the United States. The route, an incredible 1800 miles from St. Joseph, Missouri, to Sacramento, California, took 10 days to traverse. The riders would travel on horseback for 75-100 miles, changing horses every 10-15 miles. To accomplish such a feat, the Pony Express had to establish over 150 stations along the path across the country.
Once the telegraph came into existence, the Pony Express had a quick demise because it was no longer necessary to deliver messages urgently via mail. Though short-lived and never profitable, the Pony Express is a legendary example of American problem-solving and innovation.
Notes on driving the Pony Express Trail:
The road is generally good, but about 100 dusty washboard miles separate Faust from Ibapah. Passenger cars drive the road, but I would recommend a mid-to-high-clearance vehicle. If you are going to leave the main road, many of the side roads require high clearance.
The nearest services are Stockton on the east side of the route and Ibapah on the west. Stockton has fuel, but for much more you will want to continue to Tooele. Ibapah has a trading post with fuel but has limited hours. Many continue on to Wendover which has full services. Be sure to have a full tank of fuel, extra food and water, and spare tire before venturing out.
There are two campgrounds along the trail. Simpson Springs, about 25 miles into the trail from the east, is lovely. Water, picnic tables, pit toilet, and shade trees. You can reserve Simpson Springs sites online are recreation.gov.

The other campground is the CCC Campground near Callao. It has a couple of picnic tables and fire pits, but nothing else. The CCC Campground is about 30 miles from Ibapah. It is not reservable, though I have seen no one else camped there the couple of times I have stayed there.
Aside from campgrounds, the area is almost exclusively BLM with primitive dispersed camping allowed most everywhere. There are many spur roads that provide excellent and isolated camping spots. If dispersed camping, be sure to cleanup trash and leave the area better than you found it.
The drive, at about 100 miles, can be done in a half day easily, though I strongly recommend camping at least one night. There are many sights to see, and the sunrises/sunsets are really stunning in the west desert. We camped 2 nights, one not far from Simpson Springs, and one at the CCC Campground.
If visiting the Dugway Geode Beds, which I highly recommend, bring a shovel, pick, hammer, gloves, and eye protection.
Getting There
The route described below starts at the Faust Station. This is at mile marker 27.1 on UT-36, and about 21 miles south of the small town of Stockton Utah.
Route
They originally used the trail as a series of stations, so I will describe it broken up the same way. Most of the old Pony Express stations are nothing more than a historic marker or remnants of a foundation today.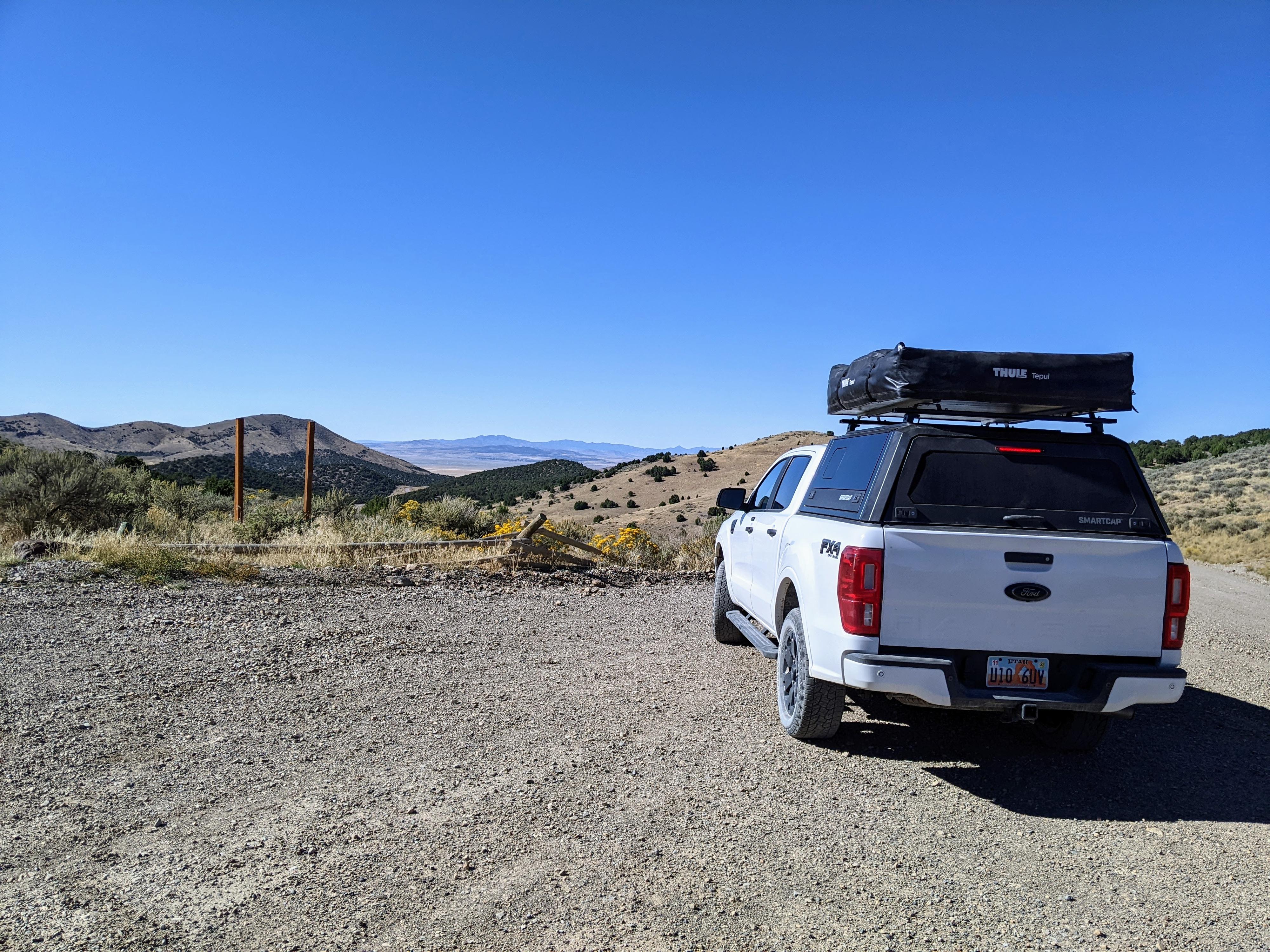 Faust Station to Lookout Station (9.8 miles)
Heading south from Faust Station on UT-36, the Pony Express side road leaves UT-36 after 0.6 miles. The side road is paved and has a large parking area and informational kiosk. Head west from the kiosk, the road soon turns to dirt. This first section, with its housing subdivision and man-made lake on the left, always feels in contrast to me with what I expect of the Pony Express trail.
At about 9 miles, Lookout Pass is reached and the view to the west of the terrain the road will be traversing comes into view. This is more what I expect from the Pony Express trail! There are many good dispersed camping sites heading west from Lookout Pass on the many spur roads. At 9.8 miles, the Lookout Pass Station is on the right. There isn't much left of the station.
Across the road from the Lookout Pass Station is a concrete enclosure. This Aunt Libby's Pet Cemetary. From the historical marker:
ENCLOSING GRAVES (WEST SIDE) OF TWO MEN AND A CHILD, EMIGRANTS OF THE EARLY EIGHTEEN SIXTIES.
ORIGINAL WALL ERECTED IN 1888, BY MRS. HORACE (AUNT LIBBY) ROCKWELL, TO SHELTER GRAVES OF HER BELOVED DOGS. 1. JENNY LIND, 2. JOSEPHINE BONAPARTE, 3. BISHOP, 4. TOBY TYLER, COMPANIONS IN HER LONELY, CHILDLESS VIGILS HERE. ABOUT 1866 TO 1890.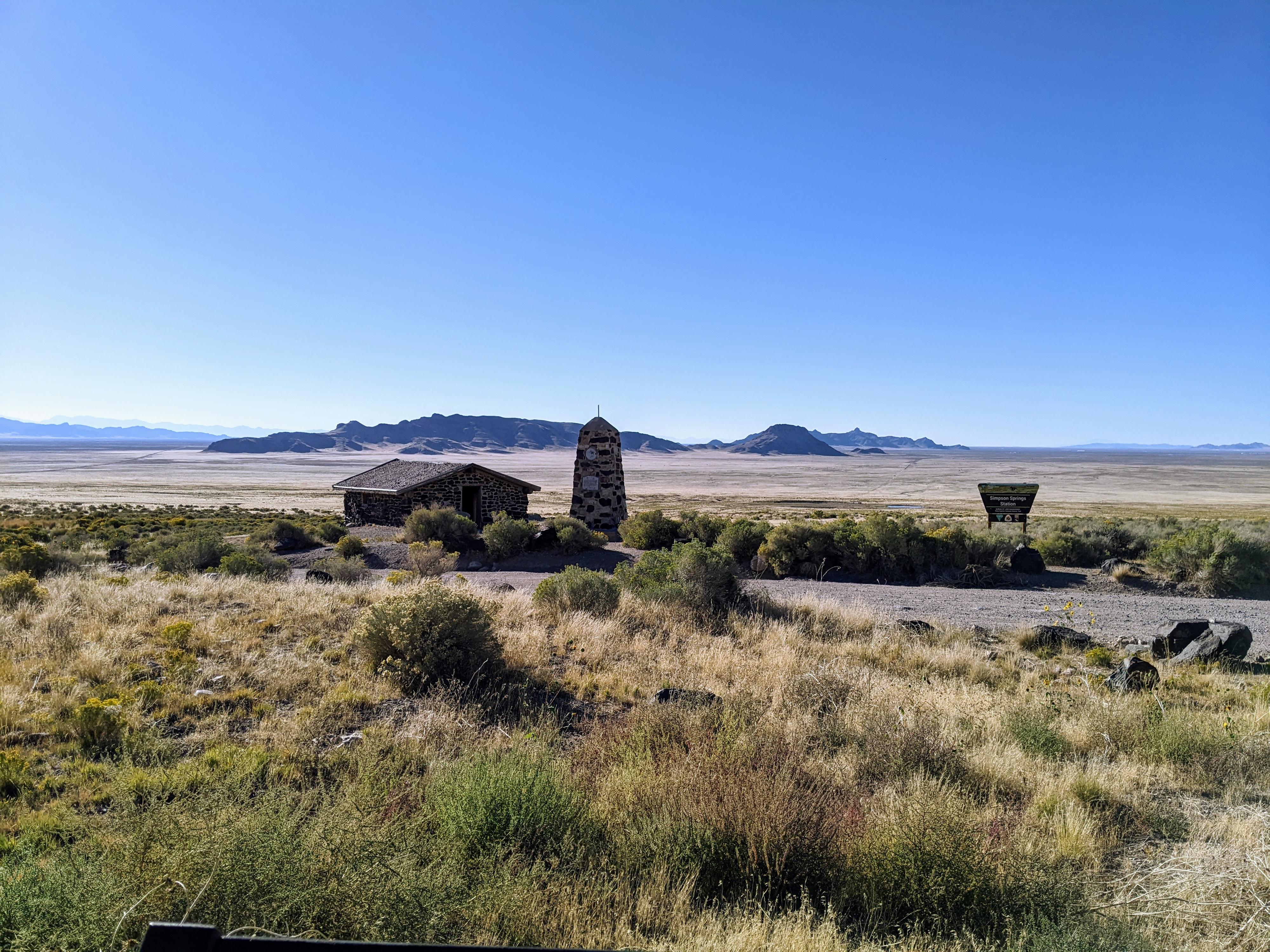 Lookout Station to Simpson Springs Station (15.8 miles)
The character changes from Lookout Station. Stay on the main road heading west from here on out. Major junctions are signed, with Simpson Springs/Fish Springs/Callao being the direction to go at these signed junctions.
About 2.7 miles from Lookout Station is an information kiosk about the Onaqui Wild Horse herd that roams this area. Keep an eye out, they are often spotted between Lookout Station and Simpson Springs.
At about 2.9 miles is a major junction. Stay left here. Right heads north to Dugway.
The Pony Express road crosses the vast openness south of Davis Mountain, then curves and heads south to Simpsons Springs Station and campground. The Simpson Springs Station is the most preserved/restored station on the trip.
Simpson Springs Station to Riverbed Station (8.1 miles)
Leaving Simpson Springs, the road heads southwest. Be careful in this section. This section is often rougher than the rest of the road and has caught people off guard going too fast. It is about 8 miles to Riverbend Station.
Just before Riverbend Station, the road descends and crosses Old River Bed, a wide dry wash. Though you wouldn't know it now, the Old River Bed was an ancient river that drained the Delta/Sevier Lake area to the Great Salt Lake. The area has been found to have been used by ancient peoples between about 8,500 and 12,000 years ago when it was a marsh.
When the Pony Express Station was built on the west side of the Old River Bed, it proved to be a good place for ambush since the bottom of the river bed couldn't be seen by approaching stage coaches or riders until they were right at its edge. This led to several robberies at the location, including a robbery where the robbers ended up with $40,000 in gold bullion!
There isn't much left of the station, but it is a lovely and desolate place to stop.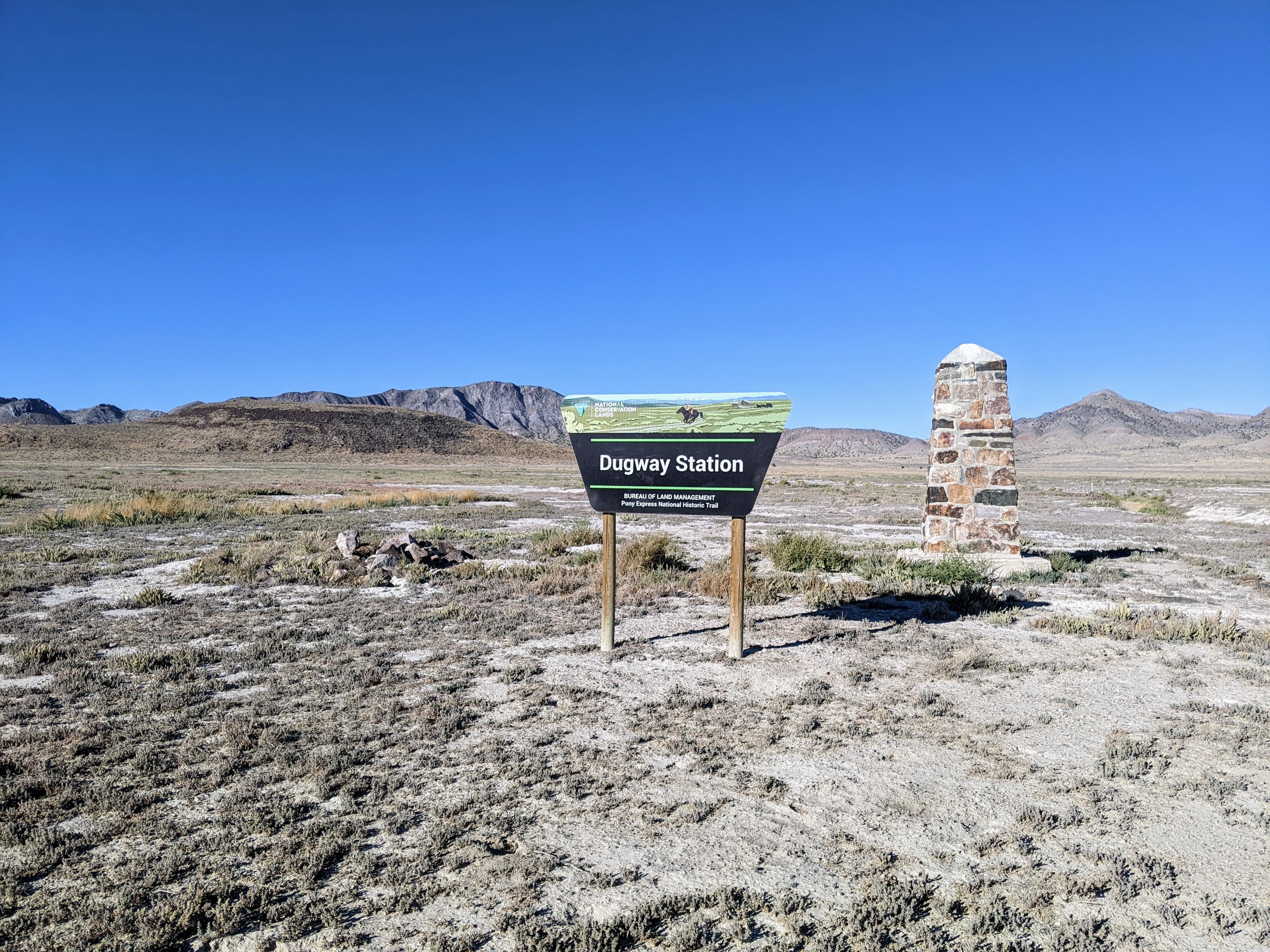 Riverbend Station to Dugway Station Junction (8.9 miles)
From Riverbend, the road continues southwest across the vast open valley. At 8.9 miles, there is a metal water tank and pump house on the south side of the road, as well as a side road heading south.
Dugway Station Side Trip
To visit the Dugway Station, leave the Pony Express road at the tank/pump and head south on the good dirt road for 1.55 miles to a faint two-track road on the right (west) side. The Dugway Station is about 0.75 miles down the rough two-track. It was, on my visit, quite rutted and required high clearance 4-wheel drive to negotiate. Walking it is also an option. There isn't much at the Dugway Station except the monument and a couple of Pony Express posts. Return to the water tank junction to continue west on the Pony Express road.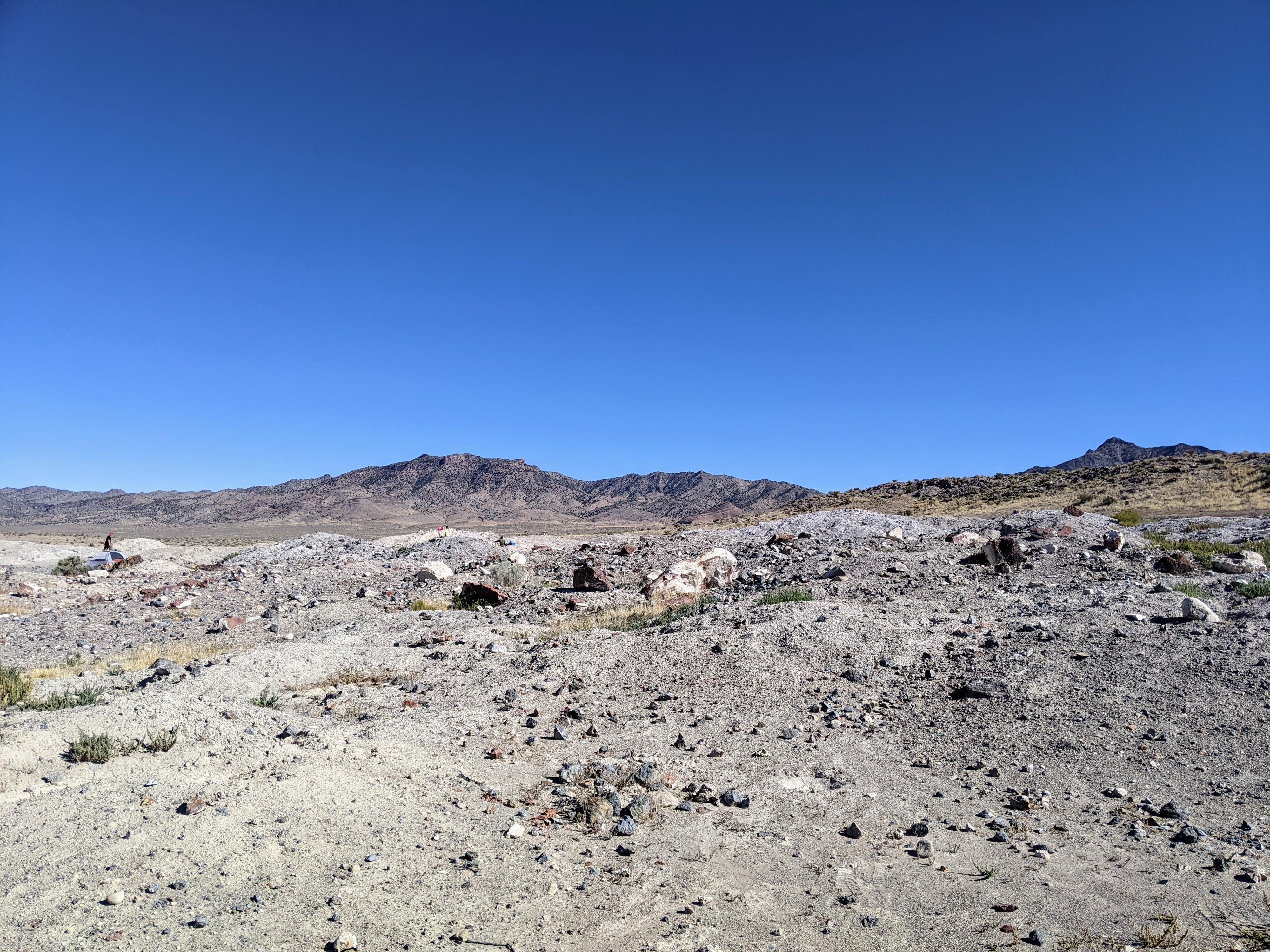 Dugway Station Junction to Black Rock Station (15.2 miles)
The Pony Express road leaves the Dugway Station junction, heads south, and passes over Dugway Pass. 7.6 miles from the Dugway Station junction is a side road on the right signed Dugway Geode Beds. From the Dugway Goede Beds junction, it is another 7.5 miles west to Black Rock Station at the north end of the Black Rock Hills.
Dugway Geode Beds Side Trip
Just north of the Pony Express on the side road is a kiosk with information about the geodes and a map of the collection areas. Pay attention to the map, as the areas do occasionally change. The collection areas are places where the dirt has been turned over by tractors to create large mounds. The mounds contain a variety of rocks, but with a little persistence and good eye, you may find geodes.
On our trip, we spent about 45 minutes digging in several areas and found a handful of geodes. Some people were having better luck, some weren't having any luck! We broke the geodes with a hammer and placing them in a sack. All-in-all, we came home with several excellent specimens. A very fun side trip. There is primitive camping in the area as well, though it can get somewhat busy on weekends when the weather is good.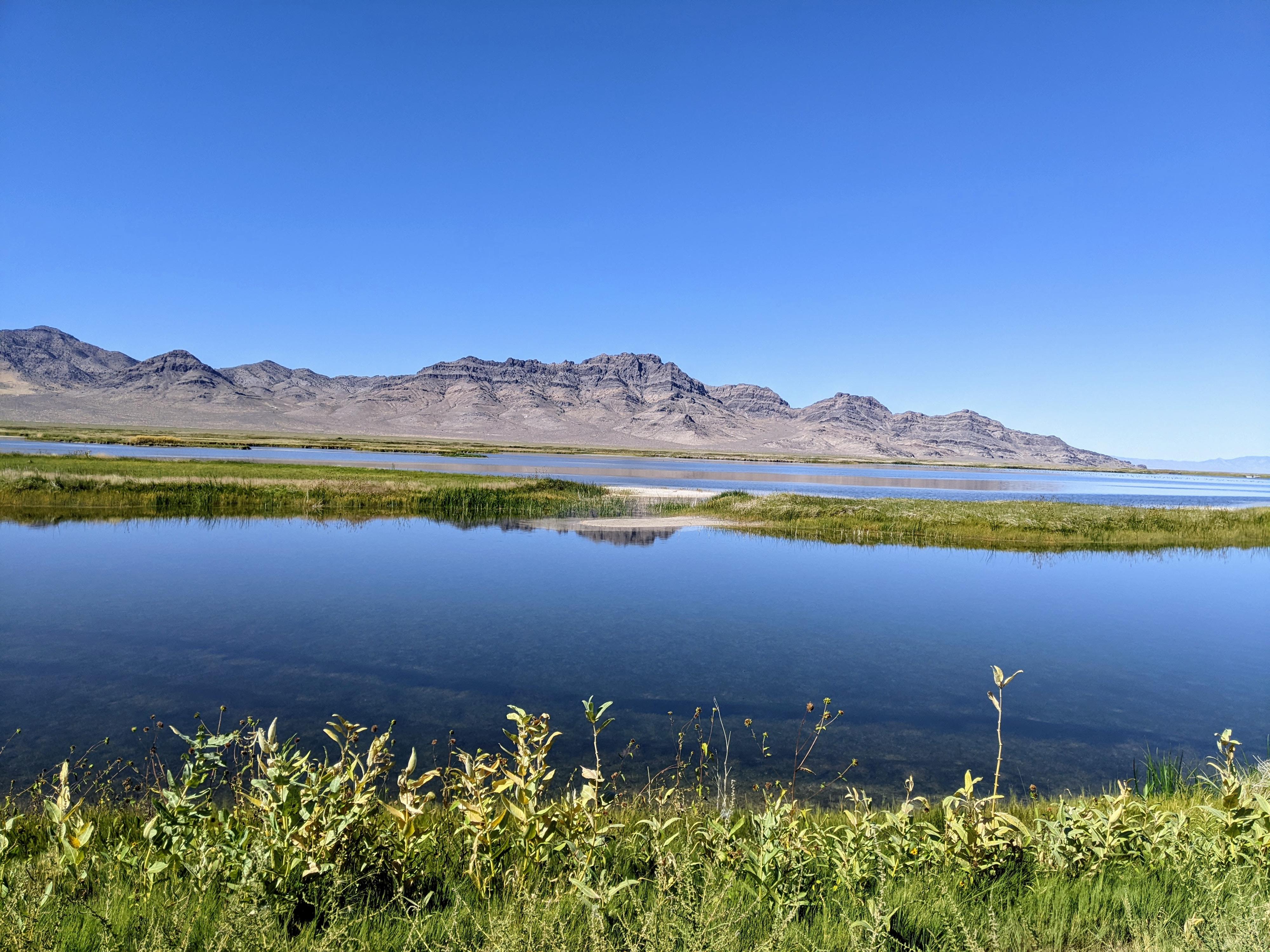 Black Rock Station to Fish Springs Station (10.5 miles)
From Black Rock Station, the scenery changes. The road heads south along the Black Rock Hills, then due west across the Fish Springs flats and up to Fish Springs National Wildlife Refuge. The Fish Springs Station is just north of the entrance to Fish Springs Refuge.
Fish Springs National Wildlife Refuge Side Trip
The refuge is a great stop. There is a picnic area and wildlife viewing area, a pit toilet, and an 11-mile automobile driving tour around several pools in the refuge. On our visit, we saw countless birds as well as 3 coyotes. The lush environment is quite a contrast to the rest of the route.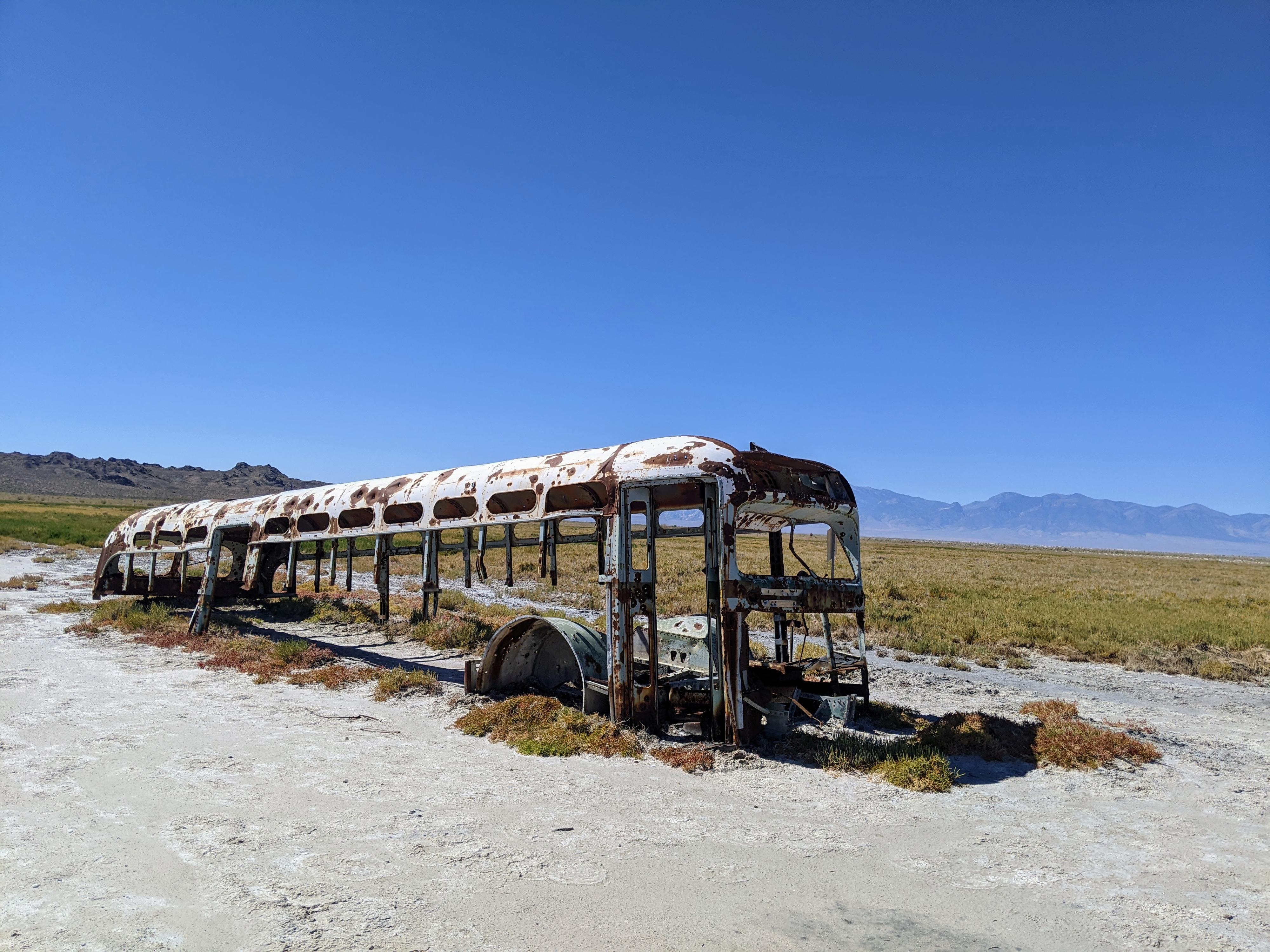 Fish Springs Station to Boyd Station (13 miles)
Continuing from the Fish Springs Station, keep and eye out on the left for a side road just after leaving the fenced Wildlife Refuge. The short road goes to a parking spot and a trail up to Hot Springs Cave.
From the Hot Springs Cave Sign:
"The first human occupation of the Fish Springs Marsh can be traced to the gradual evaporation of Pleistocene Lake Bonneville around 11,000 years ago and the formation of the marsh. Today, the Great Salt Lake and Utah Lake are all that remain of Lake Bonneville. Archaeological and botanical remains from Hot Springs Cave suggest the inhabitants of the cave were hunting and gathering the abundance of wild animals and plants that occur in this marsh environment.
Listed on the National Register of Historic Places in 1981, Hot Springs Cave is crucial to our understanding of our past. Permits to excavate or remove artifacts on all federally owned sites can be issued only to qualified persons for the purpose of furthering knowledge in the public interest. Preservation of our national heritage is everyone's responsibility. Enjoy but do not destroy your American Heritage."
Just past the Hot Springs Cave side road is another side road on the right with old rusted bus remains next to the road. This is the Wilson Health Springs side road.
WIlson Health Springs Side Trip
The side road heads north to the Wilson Hot Springs area. If you drive it, stop when the road reaches a large parking area. Continuing past the parking area into the grassy wetlands can leave you stuck up to your axles, or at least that would be my assessment based on the ruts we saw on our trip.
From the parking area, follow the trail / ruts to another old bus that appears to have been stuck to its axles in the mud for decades. It would be interesting to know its story. Signs here indicate unstable ground and scalding water lays beyond and access is prohibited. Though you can't actually visit the hot springs, seeing the old bus and wetlands in the area seemed worth the short side trip to me.
From the Wilson Health Springs junction, it is about 9 miles to Boyd Station.
Boyd Station to Willow Springs Station (9.8 miles)
To the west, the Deep Creek Mountains dominate the view. About 8 miles from Boyd Station, the small community of Callao is reached. Continue on the main road west through Callao. I could not find a marker for Willow Springs Station.
On the west side of Callao, the road reaches a T-junction. Go left here for about 4.5 miles to go to the CCC Campground. Otherwise, go right.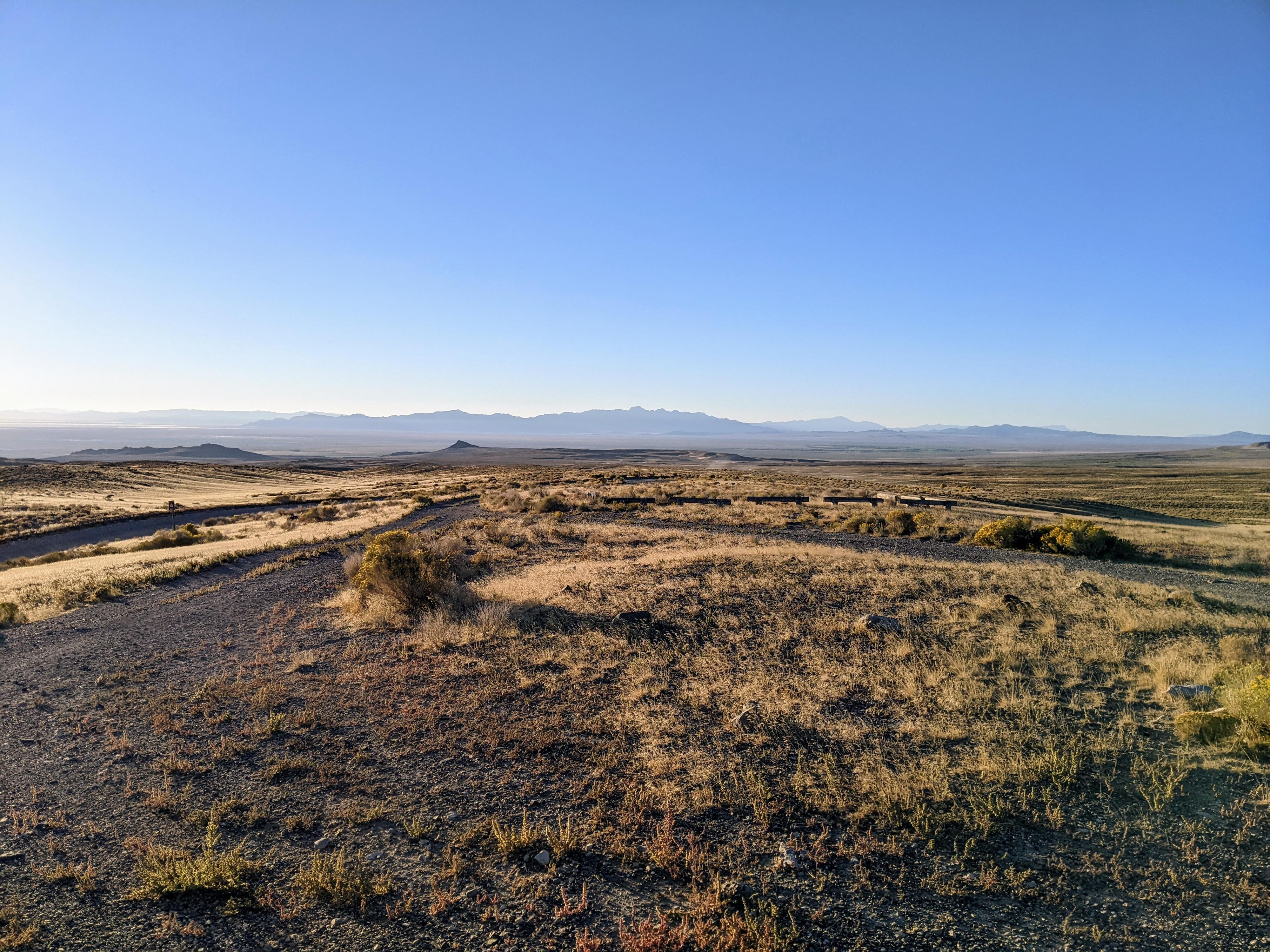 Willow Springs Station to Canyon Station (12 miles)
On the west side of Callao, where the road reaches a T-junction just past where the Willow Springs Station once was, go right, north. About 4 miles north of the T-junction is a major intersection. Go left here and continue about 8 more miles to Canyon Station on a small hill on the left side of the road.
Canyon Station to Burnt Station (3.6 miles)
From Canyon Station, the trail passes through the canyon and the Burnt Station monument is visible across the deep wash as you begin to leave the canyon on the north end. To visit the monument, take the first left after you see the monument, then the next left as the rough two-track circles back to the monument.
Canyon Station to Burnt Station (3.6 miles)
From Canyon Station, the trail passes through the canyon and the Burnt Station monument is visible across the deep wash as you begin to leave the canyon on the north end. To visit the monument, take the first left after you see the monument, then the next left as the rough two-track circles back to the monument.
Burnt Station to Ibapah (8.3 miles)
About 2 miles north of Burnt Station is a major junction. Go left at this junction and stay on the main road as it heads west to the paved road just north of Ibapah.
Faust Pony Express Marker

12T 378470mE 4448063mN

N40° 10' 27" W112° 25' 38"

Turn Onto Pony Express

12T 378166mE 4447090mN

N40° 09' 55" W112° 25' 51"

Info Kiosk - Reset Odometer

12T 377668mE 4447098mN

N40° 09' 55" W112° 26' 12"

Road Turns To Dirt

12T 376868mE 4446458mN

N40° 09' 34" W112° 26' 45"

Lookout Pass

12T 366561mE 4441688mN

N40° 06' 54" W112° 33' 57"

Lookout Station

12T 365668mE 4442246mN

N40° 07' 11" W112° 34' 35"

Aunt Libby's Dog Cemetary

12T 365560mE 4442116mN

N40° 07' 07" W112° 34' 40"

Wild Horse Kiosk

12T 362433mE 4444400mN

N40° 08' 19" W112° 36' 53"

Jct - Dugway Road - Stay Left

12T 362187mE 4444322mN

N40° 08' 17" W112° 37' 04"

Simpsons Springs

12T 347534mE 4433671mN

N40° 02' 22" W112° 47' 14"

Riverbed Station

12S 338112mE 4425015mN

N39° 57' 35" W112° 53' 43"

Dugway Junction

12S 326377mE 4416889mN

N39° 53' 03" W113° 01' 50"

Dugway Pony Express Station

12S 325841mE 4413971mN

N39° 51' 29" W113° 02' 10"

Geode Beds Turn off

12S 317058mE 4415839mN

N39° 52' 22" W113° 08' 21"

Dugway Geode Beds

12S 317310mE 4418198mN

N39° 53' 39" W113° 08' 13"

Dugway Geode Beds Area 2

12S 315997mE 4418573mN

N39° 53' 50" W113° 09' 08"

Black Rock Station

12S 305751mE 4416693mN

N39° 52' 41" W113° 16' 17"

Fish Springs

12S 294680mE 4412698mN

N39° 50' 22" W113° 23' 59"

Fish Springs Station

12S 293747mE 4413668mN

N39° 50' 53" W113° 24' 39"

Hot Springs Cave Turn Off

12S 293150mE 4418483mN

N39° 53' 28" W113° 25' 09"

Hot Springs Cave

12S 293147mE 4418375mN

N39° 53' 25" W113° 25' 09"

Wilson Hot Springs Turn Off

12S 292046mE 4419203mN

N39° 53' 51" W113° 25' 57"

Wilson Health Springs Park

12S 292030mE 4419910mN

N39° 54' 14" W113° 25' 58"

Wilson Health Springs

12S 292196mE 4420216mN

N39° 54' 24" W113° 25' 52"

Boyd Pony Express Station

12S 281543mE 4413519mN

N39° 50' 37" W113° 33' 12"

Willow Springs Station

12S 268014mE 4420145mN

N39° 53' 59" W113° 42' 49"

CCC Campground

12S 262680mE 4415705mN

N39° 51' 30" W113° 46' 27"

Canyon Station

12T 260824mE 4436431mN

N40° 02' 39" W113° 48' 13"

Burnt Station

12T 257359mE 4440170mN

N40° 04' 37" W113° 50' 44"
Want to make a comment? Login and let yourself be heard.