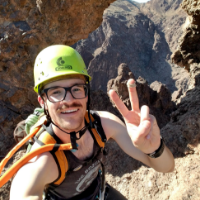 4 Karma
Favorite Trips
U-Turn Canyon
Todo List
Escalante & Bryce
Neon Canyon - Escalante
Tick List
Medieval Chamber - Moab
Date:
11/23/2018
Planned a solo trip but met an impromptu canyon buddy at the trailhead. Easy canyoneering with huge payoff!
Boy Scout Canyon - Black Canyon
Date:
04/14/2018
Went left off the rim, I don't recommend it. :-S
U-Turn Canyon - Arches National Park
Date:
03/10/2017
Easy and short trip with beautiful views and a very exciting final rappel. I did a few of the short raps with a hand line and a Prusik hitch backup.